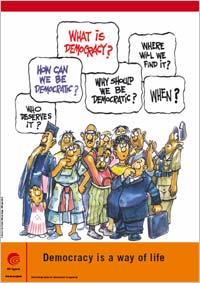 I spent yesterday evening in the company of Mie and Peter and their four youngest children. They returned from Uganda this summer, after working 5½ years as DW's in Koboko and Kampala. Mie in the project, that I'm going to be working on: "Democracry as a way of life".
They told me all kinds of things, but most of all, they gave me an impression of what it is actually like to live and work in Uganda. Which probably is the hardest of all: I know that it'll be so very different from living and working in Denmark. I just don't have a clue how…
But I think I get it just a little bit better now. And now, I'm looking even more forward to get started.
Next week, I'll be attending a preparation course in Elsinore with seven or eight other DW's-to-be.
And right now, the time is T-47d19h46m !